Study Abroad in the US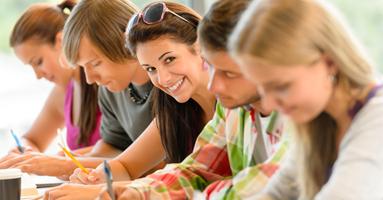 The most coveted education destination in the world that offers globally reputed degrees in all areas of study is the US. With a great deal of significance on diversity, USA houses all the world's top ranked universities. Students can opt to stay and work post their graduation in the US.
Benefits of Study Abroad in the US:
The world's most popular international student destination:
Students are provided with a globally recognized degree from top ranked Universities. Comparatively, there are more international students pursuing education in the US.
Highest-ranked universities in the world:
The US boasts of high-quality and tertiary education system that involves advanced research methods and life-transforming career opportunities.
The US way of education:
The US offers an extremely practical educational mode that is often research-and development centered, backed by international faculty and world-class infrastructure.
Multi-cultural Classrooms:
The US has turned out to be a major educational hub with excellent industrial interface. There is that opportunity for every student to gain better global exposure and have a clear understanding of what the job industry demands these days.
Campus life:
Students who study abroad are admitted on the basis of their skill assessment. They can go about finding their own employment opportunity in line with their area and standard of education.
It comes as no surprise that universities in the US consistently feature and impart superior global education standards. We have transformed the lives of thousands of students from Coimbatore, Tiruppur, Erode and Ooty who aspire to study abroad in the US. We, as a team of expert professionals, provide details regarding admission, fee structure, courses they can opt for, visa requirements to stay in the US and the work permit required to augment their career opportunities.